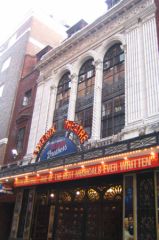 The Phoenix Theatre opened its doors on the 24th of September 1930 with the premiere of Noël Coward Private lives starring the author, Gertrude Lawrence and handsome Laurence Olivier. Despite full houses, the play closed after 3 month and was transferred to Broadway.
The atmosphere of the 1930s still permeates the Phoenix with its Art Deco fittings, mirrored Corridors and patterned ceilings conceived by the innovative Russian director and designer Theodore Komisarjevsky. In contrast to the modern, the classical is represented by the painted panels, by Vladimir Polunin, showing reproductions of works by Tintoretto, Titian and Giorgione. The exterior of the Phoenix Theatre on the Charing Cross Road entrance is also classical in style with its four rather jaundiced columns.
Noël Coward and Gertrude Lawrence used to refer to the Phoenix as "our Theatre". On 16 December, 1969, 17 years after the death of Gertrude, the owners of the Phoenix helped organise a midnight matinee in honour of Noël Coward's seventieth birthday. It is said that when Coward entered its box on the stroke of midnight, friends on stage and in the audience, including Princess Margaret, rose to their feet to sing "Happy Birthday".
Other productions in the Phoenix Theatre include Are you Lonesome Tonight?, Dancing at Lughmasa, Canterbury Tales, Night and Day and the longest run of all musicals - Blood Brothers, the Willy Russel musical which transferred from the Albery in late 1991.